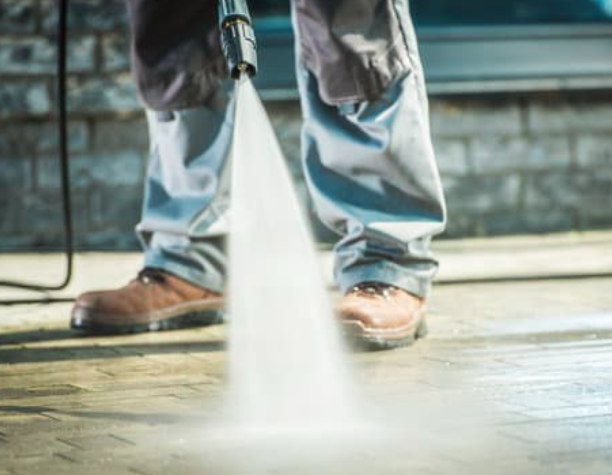 If you live in Auburn, you've probably experienced the joy of a pressure washing service. The feeling of cleanliness and freshness is something that we all crave from time to time. What many people don't know, however, is that there are several different types of pressure washers available for hire on the market today.
For example, some cleaners use cold water while others use hot water when removing dirt and grime from exterior surfaces like driveways or sidewalks; some machines have high-pressure capabilities while others are designed with low-pressure settings as a safer option for residential properties; some machines come with detergents already included while other do not require any chemicals at all – they rely solely on water power to remove dirt and stains.
Pressure Wash Bros has been in business for years, and we have learned a lot about the cleaning process in that time. Our knowledgeable team is always happy to answer any question our customers might have when it comes to the pressure washing or power washing – no matter which type of machine they're interested in hiring from us.
Contact us at (916) 619-3371 to know more about pressure washing services in Auburn, California.
General Process of Pressure Washing
The pressure washing process begins with a thorough inspection of the surface and area to be washed. The pressure washing operator will then determine what type of cleaning method is required for the specific surface or job at hand – such as whether heavy-duty chemical cleaners are necessary, how much water should be used in proportion to chemicals, etc.
The next step would be using hot water mixed with a detergent or other cleaner solution in order to apply some pressure onto those hard-to-reach places as well as loosening up dirt from these surfaces so they can easily be rinsed off after this initial procedure has been completed.
About Pressure Washing and Power Washing
Pressure washing is a process that uses water pressure to clean surfaces, such as sidewalks and driveways. What this means is that the machine's nozzles are turned on and create high-pressure streams of water mixed with soap or other chemicals in order to remove dirt from these surfaces.
Power washing can be done using either mechanical equipment like brushes or chemical methods – typically detergents – which rely solely on the power of hot soapy water being sprayed onto an object (like a house) in order to break down particles into smaller bits for easy removal by gravity. The result should be a surface free of dirt, bacteria, mold spores, mildew stains, or any other type of contamination you might find there.
Contact us at (916) 619-3371 to get free quotes and estimates.
What are the pros and cons of pressure washing?
There are several pros of pressure washing. First, pressure washing means that you don't have to do the work yourself and can instead hire professionals. Second, because power washers use high-pressure streams of water mixed with chemicals or detergents in order to remove dirt from surfaces like driveways, decks, fences, roofs – any surface really – it's a much more efficient way than scrubbing these things by hand without using anything but your own elbow grease. And third, you'll be able to save money over time by not having to purchase expensive cleaning products for specific jobs like removing paint stains off concrete when you need a new driveway poured.
The cons are really just that some people might find this process too loud if they're living close enough to the worksite.
It is worth noting that hiring professionals will save homeowners time, effort, and money while still providing them with quality services at an affordable price.
Pressure Wash Bros Services Offered in Auburn, California
Driveway Cleaning
Driveway cleaning is a service that many homeowners often forget about. And while it may not seem like a big deal, the truth is that over time dirt and debris can accumulate on your driveway's surface which diminishes its appearance as well as causing problems with water drainage. Your driveway should be taken care of on a regular basis so that it doesn't turn into an eyesore in your yard and also to keep dirt from getting tracked inside your home. So don't wait until you are having trouble getting out of your garage before considering this service. Our professionals are here offering quality service at competitive pricing with no hassle.
Rust Removal
Rust removal is a service that many homeowners need to have done on a regular basis. This is because rust can accumulate over time and eat away at the surface of your metal materials, causing them to deteriorate quicker than they should. But don't worry! We are here offering quality solutions for you so that you don't lose any more money from your home's appearance or safety features.
Deck Cleaning
If you have an outdoor living space such as a deck or patio, then we recommend hiring professionals to clean these surfaces for you because they will be able to provide quality services at an affordable price-point without any hassle on your part. And if you're also dealing with mildew due to moisture buildup in those areas, this should definitely be done sooner than later because the longer you wait, the worse things will get.
Gutter & Roof Cleaning
Sometimes debris can fall onto roofs or down gutters which not only makes them look less appealing but can result in water damage if left unchecked. This type of cleaning is necessary for homes that have these types of features as well as those who live close to trees or other sources of leaves in order to prevent any issues such as flooding.
For more information about Pressure Wash Bros residential and commercial pressure washing services, reach us by dialing (916) 619-3371 now.
Hire Pressure Wash Bros Today
Pressure Wash Bros works hard to provide the best service possible, and we always have a great attitude. Our team of experts is all licensed and insured, so you know your home or business is in good hands when you hire us! We offer both exterior house cleaning services as well as commercial cleaning jobs – no project is too big or small for us! Contact our friendly staff today at (916) 619-3371 to learn more about how we can help your home or office shine like new again.