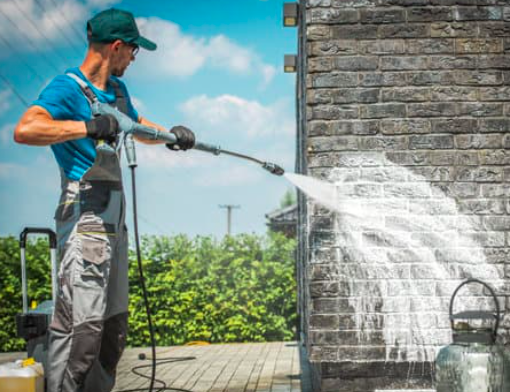 Your home and business are your sanctuaries. It's a place you go to feel safe, comfortable, and free from stress. But when there's dirt and grime all over the outside of your property, it can be hard to feel like that sanctuary. Hire Pressure Wash Bros for pressure washing services in Rocklin. We'll get rid of any dirt or grease on the exterior so you can enjoy this space again.
The Pressure Wash Bros team is experienced and knowledgeable when it comes to providing the best service possible. They will help you get your property back in shape by using eco-friendly products, saving on time and money while minimizing disruption to your home or business. Reach out today for a free quote if you want the job done right! Call us at (916) 619-3371.
Benefits of Pressure Washing
There are several benefits of pressure washing that include:
Removing dirt and grime from the exterior of your property so that it looks clean, new, and refreshed.
Saving on time by using eco-friendly products to quickly get rid of any stains on building surfaces.
Minimizing disruption because they use noninvasive techniques at all times.
Prevent repairs and replacements by removing the stains so that your property's exterior will last longer.
Minimizing water and wastewater because they use a low-impact cleaning process to remove dirt and grime from hard surfaces without using any chemicals or detergents.
Protecting landscaping, window sills, door frames, eaves of houses with plants growing on them, roofs shingle finishings against deterioration. The pressure washing service also removes black mold spores that can be hazardous for people suffering from asthma and other respiratory problems; it kills 99% of all bacteria in pools when used as a maintenance procedure after swimming season ends; it cleans up oil spills at gas stations and protects the environment by reducing toxic pollution levels caused by petroleum hydrocarbons.
Pressure Wash Bros Services Offered in Rocklin, CA
Commercial Pressure Washing
One of the most important parts of owning any business is keeping employees safe by keeping their workplace sanitary. Commercial pressure washing is a great way to maintain your building's cleanliness and have the exterior looking like new. With this service, you can get all types of debris removed including dirt, mold spores, algae, or lichen off a roof shingle finishing and eaves of houses with plants growing on them.
Residential Pressure Washing
Residential pressure washing is a great service for homeowners because they should have their home's exteriors cleaned at least once every two years. This type of cleaning will remove pollutants, bacteria, dirt, and grease that can build up on siding from the environment or just regular use around your house.
Gutter Cleaning
One thing most people don't think about when it comes to exterior maintenance is gutters – this part of your home needs attention too! Gutter cleaning removes all debris sitting in them such as leaves, twigs, pine needles, seeds, and other small bits so drainage continues uninterrupted. It also cleans out any accumulated organic materials within the guttering system like algae which causes corrosion damage to metals used in roof systems.
Heavy Equipment Washing
If you have any heavy equipment and are looking for someone who can get all the muck off, then look no further. This service is perfect if you've been in an area where spills or other accidents were requiring heavy-duty cleaning services. All of our technicians are trained to be safe as well as professional when working around these dangerous machines; they're also equipped with safety gear like helmets and gloves so that nothing happens while on-site.
Fleet Washing
Fleet Washing is an essential service for any commercial customer who needs their vehicles to be free of dirt and grime. Our well-trained staff will attend your fleet, truck, or car wash on a scheduled basis so that you can have peace of mind knowing they won't neglect the job at hand.
Roof Cleaning
We have the perfect solution for all your roofing needs! Roof cleaning is a service that we offer, and one of our top favorites. We can remove anything from dirt to moss on any type of surface, including shingle roofs or metal roofs.
Graffiti Removal Services
Pressure Wash Bros removes graffiti quickly without damaging property at competitive prices. Our company has been doing this line of work for years and knows how to expertly get rid of paint tags while leaving surfaces undamaged. Whether it's brick walls outside stores or freeway overpasses, we have the tools and knowledge to get your property back in shape.
Power Washing
We have been in the pressure washing industry for years and we know what it takes to remove dirt, mold, mildew, or whatever else needs removing. Our company is committed to providing top-notch services at affordable rates so you get your money's worth. We provide professional power washing that never leaves any streaks.
Soft Pressure Washing
We also offer soft pressure washing that is gentler on your home's surface. This type of power washing gives a relaxed wash to the surfaces, without removing any coatings or layers from your property.
To know more about our pressure washing services offered in Rocklin, CA, contact us at (916) 619-3371. Dial now to get free estimates.
What is the best time for pressure washing services?
Pressure washing your home is a much easier task during the fall and winter months. This is because it's not as hot outside, there are no bugs to clean up, and you don't have to worry about leaf mess from autumn trees in the spring.
What To Expect When You Hire Us?
When you hire us, you should expect high-quality service at competitive rates because that's something we pride ourselves on providing clients everywhere. Our company provides excellent customer service and we work around your schedule to make it convenient for you. We want all of our customers to have nothing but a positive experience with our company so they can come back again and again.
Contact Pressure Wash Bros at (916) 619-3371 to get free quotes and estimates.
Our services are available in the following cities: Rocklin, Roseville, Granite Bay, Loomis, Auburn, El Dorado Hills, and more.