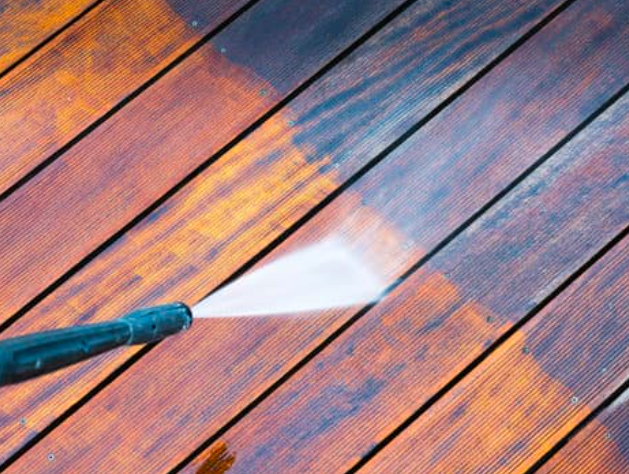 The majority of people will have to hire a professional pressure washing company at some point in their lives. Pressure wash companies come in all shapes and sizes, but few stand out as much as we do.
One thing that sets us apart is the amount of experience our team has had with pressure washing projects. Our staff members are all skilled professionals who know what they're doing and can execute any job quickly and efficiently. We also offer competitive pricing for your peace of mind.
If you want your home or business's exterior to look its best, call Pressure Wash Bros today at (916) 619-3371.
More About Pressure Wash Bros Pressure Washing Service
A pressure washing service is when a professional company cleans the exterior of your property using high-pressure water. It is a great way to get your home or business looking clean and fresh. Many homeowners choose to have this service done every few months or once a year.
It is important that you hire a professional company for the best results because they will use commercial-grade pressure washers and powerful detergents, which are better equipped than household products. Pressure Wash Bros specializes in exterior cleaning, so if you're looking for someone who knows how to do it right, call us today at (916) 619-3371!
What is the pressure washing process?
Before the proper pressure washing process begins, a thorough inspection of the surface is conducted. Experts then determine which cleaning solution will be used to address any specific stains or needs on that particular surface before spraying it with water. The high-pressure water removes dirt, grime, mold, mildew, algae, lichen from surfaces such as sidewalks (concrete), walls of buildings/houses(brick), concrete driveways, and patios.
Our professional will then use a finishing product on the surface that enhances colors while protecting against stains. This process can only take place after all outdoor furniture and garden equipment are moved away from the area being pressure washed, as well as mailboxes and plants in close proximity to avoid damage during this time; once completed, they should be returned back into their original position.
Benefits of Pressure Washing
The benefits when pressure washing a home are many. Clients will notice an instant increase in curb appeal, which is invaluable for the property's value and resale potential. As well, there are health benefits of having your house washed with high-pressure water because it removes harmful pathogens from surfaces on contact: particles that cause respiratory problems or allergies (mold), algae that can grow into slippery floors (lichen), etc.
Pressure washing does not introduce harmful chemicals into the environment and is safe for use around children. It does not require harsh chemicals, so you don't have to worry about your family being exposed to potentially dangerous substances when working with a professional service provider.
Highly effective for removing dirt, mold, and mildew from hard surfaces such as concrete patios, driveways, and decks; removes graffiti and old paint or coatings without damaging any surrounding surface.
To know more about pressure washing services in Folsom, CA, contact us at (916) 619-3371.
What can be pressure washed?
House siding, decking, railings, fences, home exteriors (i.e., soffits), crawl spaces or attics, brick patios, and porches; garage floors (concrete) and much more are all possibilities for a power washing when hiring the right company in your area.
When you're looking for a quality service that will leave behind healthy results on any surface of your property while also adding value to its resale potential then call Pressure Wash Bros today at (916) 619-3371.
How much does pressure washing service cost?
The cost of the pressure washing service depends on the size of your home and the surface that will be cleaned. Give us a call at (916) 619-3371 so we can discuss what needs to be done before giving you an estimate over the phone. This is also helpful if there are specific stains like mold, mildew, insect infestation, grease buildup from cooking which may take extra time and pressure for removal.
Why hire Pressure Wash Bros over others?
We have experience with all types of residential, commercial, industrial properties as well as power-washing services on cars and boats. Our certified technicians will always arrive at your home or workplace fully equipped with the latest equipment so we can clean your property while also protecting it from any harsh chemicals by using only eco-friendly solutions.
We have an established reputation for delivering exceptional results every time. We're committed to going the extra mile in order to keep clients happy.
Our company is dedicated to serving Folsom, CA, and other nearby areas with quality service and affordable prices so call us today at (916) 619-3371 for a free estimate.