Granite Bay Pressure Wash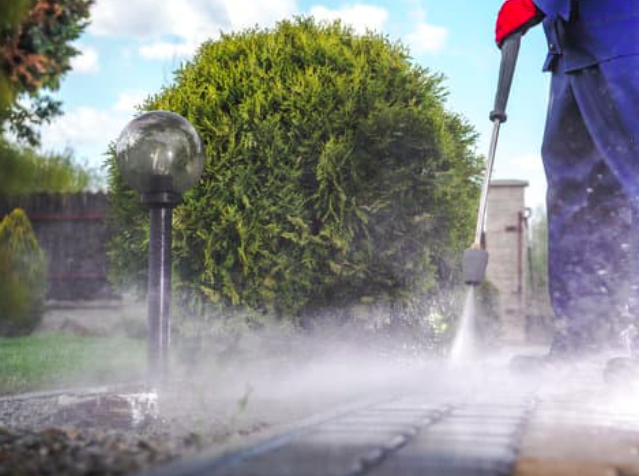 Whether you live in Granite Bay or not, there's a good chance that your property is dirty. Having dirt and grime on your exterior walls, sidewalks and driveways can make it difficult to find customers for your business or even keep them from coming into the building altogether.
If you're looking for professional pressure washing services in the Granite Bay area, Pressure Wash Bros can help. We offer a variety of pressure washing services to suit your needs and budget. We also provide first-rate customer service from start to finish. You can depend on us for all of your residential or commercial cleaning needs.
Contact us at  (916) 619-3371 to know more about Pressure Wash Bros. Call now and get free estimates.
What are the services we offer?
We provide residential and commercial pressure washing services.
We do all of the following:
Gutter Cleaning
We offer gutter cleaning services which are perfect for clearing out leaves from your gutters so they don't clog up the drain system during rainy periods. This will prevent any potential water damage to your home and is a great way of keeping things clean.
Graffiti Removal
Pressure Wash Bros offers graffiti removal services that can remove paint, chalk, crayon, or even permanent marker from surfaces like exterior walls on homes, buildings, and commercial properties. There are many different types of materials we use in order to get the job done effectively so it doesn't leave behind harmful residues such as grease or acid. We take pride in our work because when you hire us for this service then you know everything will be taken care of!
Rust Removal
When steel objects have been exposed to moisture over time, they may develop an oxidization process, leading them to turn a shade of red-brown. This process can be stopped if you hire us to come out and pressure wash your steel objects. We offer rust removal services, give us a call at (916) 619-3371 today for the best service you'll find in Granite Bay, CA.
Deck Cleaning
If you have a deck, or if it needs an overhaul because it looks old and ugly, we can help with pressure washing services in Granite Bay so even decks will look new again. You deserve more than just good-looking steel fences for privacy; invest in one of our heavy-duty cleaners today. We'll get rid of all those stains on your deck and keep them away with power washing services as well. Deck cleaning is done right!
Dumpster Cleaning
We also provide dumpster cleaning services to ensure that all of our clients are making sure their debris is getting disposed of correctly. Our staff will make sure that trash or garbage gets removed from your property without any odors left behind as well as remove dirt or other pollutants which may have accumulated since it was emptied last time. Dumpsters tend to get quite dirty over time because they're always outside.
Driveway Cleaning
A driveway without a pressure wash? Not much in our opinion. We are happy to provide this service along with any other exterior cleaning you may need for your property and will work hard at getting it done right the first time so that all of those nasty stains or paint spills get removed before they cause permanent damage.
Commercial Pressure Washing
We also have commercial clients who come to us because we do heavy-duty washing as well, specifically designed for businesses such as gas stations, restaurants, car dealerships, and more. These types of properties can be very dirty due to people coming from far away just to eat, use their restroom facilities, or fuel up on gasoline – but don't worry about these spots anymore. Our equipment is top of the line and will make your place look like new after we have it all cleaned up.
What is the difference between power washing and pressure washing?
Pressure washing will typically use a higher water-to-surface ratio. Pressure can also be adjusted by using different nozzles and adjusting the distance of the nozzle from your surface, resulting in saving time or money when cleaning larger areas more quickly. Power washing is used to clean the surfaces of structures and other manmade items on a regular basis to keep them looking fresh, new, and attractive.
Pressure washing is commonly used to clean off concrete, siding, roofs, or driveways while power washing might only be appropriate for appliances like stoves and ovens with their stainless steel surfaces since it doesn't typically provide an adequate amount of force needed to remove stains caused by food spills.
Power washers are often used on these types of materials because they have sufficient amounts of pressure available as well as high flow rates capable of removing many contaminants from the surface in a short period of time.
Pressure washing is also commonly used to clean and deodorize certain types of equipment such as industrial-sized kitchen exhaust fans and ventilation systems, fleet vehicles for automobile dealerships or car washes, heavy machinery like construction trucks at job sites, food processing machines, outdoor grills like BBQs that need regular cleaning every season when they are not being used on a daily basis, roofs that contain moss or other living vegetation which can grow over several months before it's noticed or removed but pressure washing will remove these problems quickly without any harm done to buildings themselves.
Why Hire Pressure Wash Bros?
Pressure Wash Bros is also well known for its thorough residential-grade services that include soft wash (power wash) which is gentler than traditional methods but still cleans with hot water on the surface just like pressurized washers do. The company's signature service continues to be its ability to safely remove ants from the surface in a short period of time without leaving any residue behind unlike most popular products out there today.
Pressure Wash Bros technicians are experts in pressure washing and will work with you on an individual basis to determine the best solution for your needs.
Pressure Wash Bros offer affordable prices for their high-quality workmanship, including many different types of services such as residential or commercial deep water blasting or just light cleanings around your property. Give us a call today at  (916) 619-3371 or fill out our free quote form. The friendly staff members are always ready to answer any questions you may have about our pressure washing services.