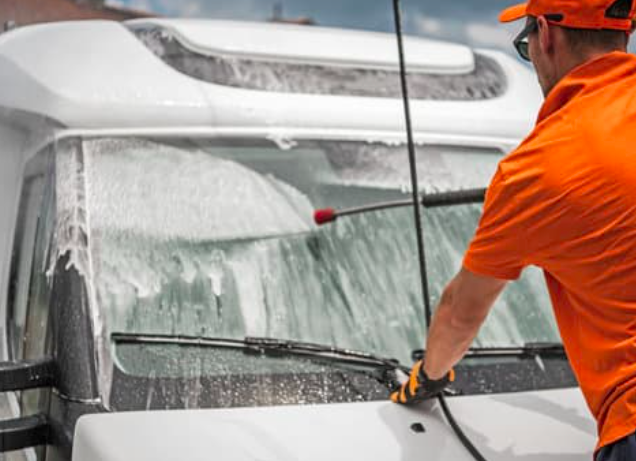 Pressure Wash Bros has been in the pressure washing industry for years and we have earned a reputation as one of the most reliable and trusted companies. We take pride in providing our clients with excellent service, competitive pricing, and quality cleaning results.
Since we specialize in fleet washing, you can rest assured that your vehicles will be thoroughly cleaned without any damage to them or their paint jobs. Contact us at (916) 619-3371 to know more about Folsom fleet washing and other services we offer. Dial now to get free estimates.
Fleet Washing in Folsom, CA
Pressure washing is a great option for fleet owners who want the convenience of getting their vehicles washed without having to do it themselves.
This system uses water, high-pressure streams, and detergent or soap to clean cars in just minutes – much faster than other methods that take hours per car. Pressure washers use less water (upwards of 90% less) while maintaining superior results because they produce powerful jets as opposed to gentle sprays found on garden hoses. This means you can wash more cars with fewer resources such as chemicals, time, and personnel.
Factors to Consider in Fleet Cleaning
When it comes to fleet cleaning, there are many factors to consider. What type of equipment do you need? What chemicals should I use? Do I need a professional detailer or just a wash-and-go job? Which method is best for my needs – mobile bay service or truck-mounted service? How much time does it take per vehicle? To be able to answers all of these questions, you need a professional that can help with fleet washing.
The type of equipment needed for this service depends on the size and nature of your business, but it is typically truck-mounted trailers or stationary bays at commercial locations. Regardless of which setup you have, water pressure will be one key to success in making sure all parts are thoroughly cleaned – from wheels to roof racks. The method used by professionals when cleaning vehicles also vary depending on whether they're mobile or not. No matter what's chosen though, time per vehicle is always the same: long enough to do an effective job well.
General Process of Fleet Washing
The process of fleet washing begins with a thorough inspection. This is important because it helps us determine what needs to be done and how many people we need on-site for the day – which will depend on your desired level of detail.
Then, depending on the type of service you choose, we'll apply appropriate chemicals to safely remove dirt and grime from vehicles while avoiding any damage. We use high-pressure water jets combined with soap or detergent solutions that ensure deep cleaning without causing damage in most cases. And finally, we'll dry your fleet to remove any remaining water with powerful air movers and high-velocity blowers for a complete clean that's fast and efficient.
How much does fleet washing cost?
It really depends on the size and condition of your fleet. Some factors that affect cost are vehicle type, desired level of detail for cleaning vehicles, how often you want service performed, and location of the fleet. For a free estimate, contact us at  (916) 619-3371 today!
What happens after fleet washing?
We provide a detailed cleaning report that outlines all the work done on your vehicles. Plus, we offer free touch-ups for as long as you need them with no additional cost or obligation. This ensures our team does their best to keep your cars looking great without costing you more money over time.
Why Hire Pressure Wash Bros for Fleet Washing
We have a crew that's trained in the latest equipment and methods for fleet washing.
Our fleet washing service is value-priced and built to clean your company's vehicles without the need for costly water lines, hoses, or chemicals.
We provide a one-stop-shop experience with various solutions including pressure washers, carpet cleaners, detailers at an all-inclusive cost per unit; no hidden fees or charges.
Service at any time- we will make sure someone is available anytime.
We have got years of experience to know what works best, so you don't need to be an expert in high-pressure water jetting or chemical application yourself.
Our team will always show up on time and ready with everything you need – no waiting around for hours while our workers figure out how to start! And if something changes at any point, we're flexible enough to accommodate it without too much difficulty. This is really important when we come into contact with sensitive areas like computers or electronics.
Give us a call if you want Pressure Wash Bros to do your fleet washing. Reach us by dialing  (916) 619-3371 and free estimates.