El Dorado Hills Pressure Washing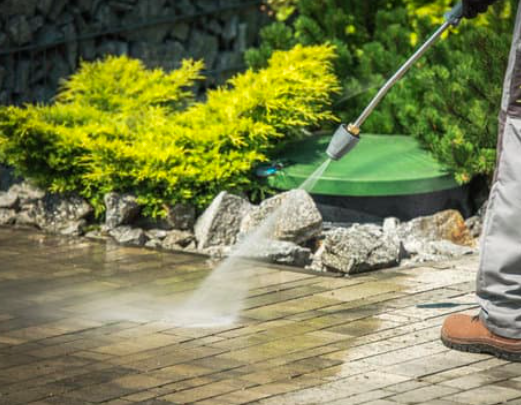 We know that pressure washing sounds like a tough job. It's no surprise that many homeowners think they can't do it themselves. That is why we are here! Pressure Wash Bros has been providing high-quality pressure washing services to El Dorado Hills and the surrounding areas for years, so you can rest assured knowing your home will be in good hands with our professionals. We offer a variety of different services, all customized to meet your needs. Whether you need a quick wash on the roof or deck, or something more extensive such as driveway cleaning, gutter cleaning, power washing graffiti removal, and rust removal – we've got you covered!
Contact us at (916) 619-3371 for all your pressure washing needs in El Dorado Hills, CA.
Pros of Pressure Washing
Pressure washing is an amazing service for homes in El Dorado Hills because it cleans away dirt from surfaces like driveways, decks, roofs, siding – even sidewalks. It also helps remove mildew on fences and removes graffiti without damaging brick walls. Pressure washers are an environmentally friendly way to clean and sanitize surfaces.
Pressure Wash Bros offers commercial and residential pressure washing services. In El Dorado Hills, CA they have been cleaning and enhancing homes for years now. We are a family-owned business that takes pride in our work and offers competitive prices to make the service affordable – we believe that your home should be as beautiful on the outside as it is inside.
Commercial Pressure Washing
If you own an office building in El Dorado Hills, CA at any time throughout the year there is always something on the outside needing cleaned up; rain gutters get clogged by leaves during the fall, snow is all over the building during winter months and leaves are everywhere in spring. Let Pressure Wash Bros handle that for you.
Commercial pressure washing includes the following:
Soft Pressure Wash
If you're wanting an eco-friendly cleaning with no harsh chemicals, then soft pressure washing is the way to go. This is the best way to clean delicate surfaces like paint or vinyl siding and fences that need to be preserved.
Gas Station Pressure Washing
If you have an exterior need at a gas station in El Dorado Hills, CA we can take care of that for you too! Gas stations are a high traffic area and it's important to keep the outside looking its best by getting rid of all types of grime and dirt. With our commercial grade equipment, power washers, chemical tanks, degreasers, brighteners & sealers – there isn't anything we can't tackle.
Roof Washing
Pressure Wash Bros offer roof cleaning services with industrial-strength detergents designed specifically for this type of surface. Roofs require special attention because they're so exposed to UV light which deteriorates over time on top of the wear and tear of being constantly exposed to the elements. With our roof cleaning service, you can rest assured that your roof will look as good as new again.
Residential Pressure Washing
Pressure Wash Bros also offers residential services including pressure washing, power washing, sidewalk pressure cleaning, house pressure washing, and rust removal. We can also do the following residential pressure washing services:
Driveway Cleaning
We offer a variety of driveway cleaning services in El Dorado Hills, CA with different levels of pressure washing equipment for any budget or requirement level. Asphalt is porous which means water sits on top long after it rains so we use powerful high-pressure machines designed specifically for this type of surface! We also have soft & medium-pressure washers perfect for those lighter jobs like sidewalk cracks or dirt buildup from landscaping mulch.
Rust Removal
Rust removal is necessary to protect and preserve the integrity of metal surfaces. We use a state-of-the-art rust removal system as part of our service that is specifically designed for anything from automobiles, doors, railings, stairs, fences, or any other metal surface you have around your house.
Gutter Cleaning
If your gutter system is clogged with debris, it will most likely overflow when it rains and cause water to pool on your property. Gutter cleaning ensures that the flow of rainwater is not impeded by leaves or other natural growths so that you don't have a flooded yard after every rainfall.
Is pressure washing concrete bad?
No, pressure washing is not bad for your concrete. However, it does depend on the age of your surface and what type of sealer or stain you have on it that will determine how much damage will occur over time. If you've recently had a new driveway installed with aggregate finish (looks like small pieces of rock), then this would be great to clean off as often as once per month because there are no worries about sealing and staining.
But if you already have an older concrete driveway that has been sealed with something like oil-based paint or stone sealant, then we recommend having them resurfaced professionally to avoid any wear in future years when cleaning becomes more necessary than usual due to weather conditions.
To know more about pressure washing in El Dorado Hills, CA, contact us now at  (916) 619-3371. Dial now and get free quotes and estimates.
How often should you power wash your house?
Power washing is a necessary service to have done every few weeks depending on the amount of time that dirt and dust settle on your house. If you're in an area that has harsh winters then it may be more beneficial for you to get this service closer to once per month, but if you live in Southern California or another warmer climate, power washing should only happen about twice per year at most.
Choose Pressure Wash Bros for Your Pressure Washing Needs
We are able to work with any budget and can do whatever you need, whether it be power washing your home or deck, driveway cleaning heavy equipment, commercial pressure washings for gas stations.
Pressure Wash Bros specializes in pressure washing homes throughout the cities around El Dorado Hills. Give us a call at  (916) 619-3371 and get free quotes and estimates.