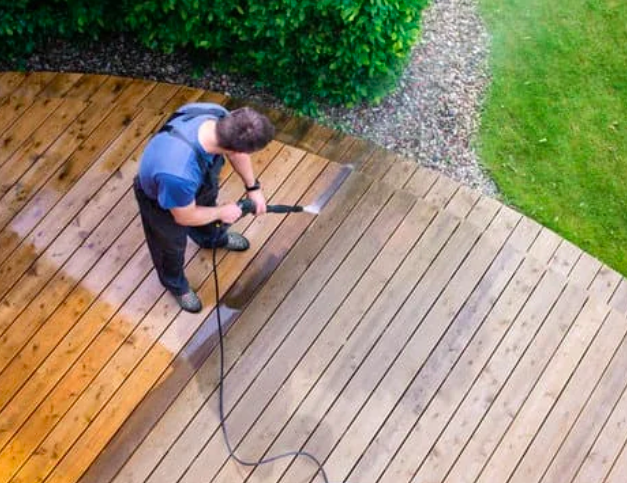 The exterior of your home or business is the first thing that people see when they come to visit. That's why it's important to maintain a clean and attractive look by pressure washing your property when needed.
Pressure washing is the process of spraying a high-pressure stream of water onto an object or surface. It's most often used to clean and remove dirt, mold, algae, moss, lichen, and other organic growth from surfaces such as concrete driveways and sidewalks. The pressure washer cleans the surface by blasting away contaminants that are in its path; it can even break up grease on asphalt.
Pressure washing companies like Pressure Wash Bros offer products and services for both homeowners who want their property looking fresh again after years of neglecting it, as well as businesses that need to maintain a polished appearance at all times. We can pressure wash your driveway or patio so you'll be ready to host guests without having to spend hours scrubbing away the grime.
To know more about our pressure washing services, don't hesitate to call us at  (916) 619-3371. Dial now to get free estimates and quotes.
Experts in Pressure Washing Services – Folsom, California
Pressure Wash Bros is a pressure washing company that specializes in giving your home or business the cleanest, most beautiful finish possible. You can trust that all of our work will be done to the highest standards and with a level of quality you won't find anywhere else. All of their employees are licensed, insured, and certified professionals who have been trained in the latest techniques for delivering an unparalleled experience. We offer free consultations on any job so you know exactly what it will cost before they start working and everything is backed by a written guarantee against any problems.
We can handle any size job from small residential homes to large commercial buildings like malls or factories. We clean all types of surfaces, including brick driveways, commercial parking lots, restaurant patios, sidewalks outside schools and office buildings; we even wash boats. Some pressure washing services may offer high-powered equipment or offer guaranteed results but most don't provide the same type of personalized service as Pressure Wash Bros does.
Call Pressure Wash Bros today at  (916) 619-3371 to get free estimates and quotes.
Excellent yet Affordable Pressure Pressure Washing Services
We make sure that all of our pressure washing services meet our customer's expectations and budget. We are proud to offer affordable rates, payment plans for those who qualify, and a guarantee that allows you to feel more at ease. We want every customer of ours – whether they be residential or commercial property owners – to know we are here with their best interests in mind.
The experts at Pressure Wash Bros are the best in the business. We have been providing pressure washing services for years, and we would love to be your go-to company as well.
Contact Pressure Wash Bros at (916) 619-3371 if you are looking for any pressure washing services. One of our experts is always happy to answer any questions you may have or provide you with a free estimate.