Sacramento Pressure Washing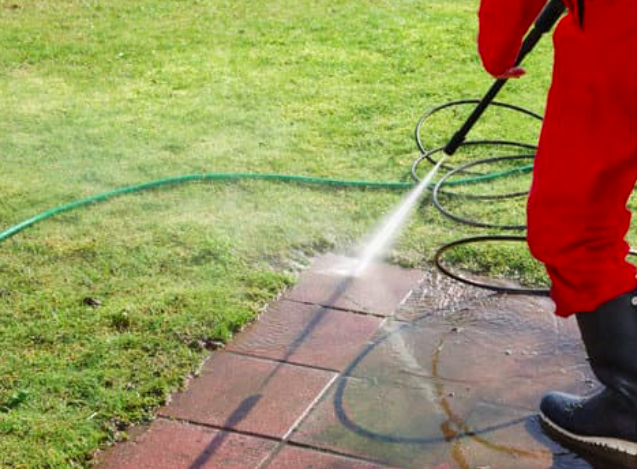 The Sacramento area has a very diverse climate. In the winter, it is typically cold and dry while in the summer, it's hot and humid. When you're dealing with these types of extremes, your exterior surfaces are constantly being exposed to more than just dirt and grime; they also have to endure wind, precipitation (rain or snow) as well as sunlight. All this exposure can cause damage to your homes or business property like water stains on your brick facade or scuff marks on your vinyl siding from tree branches rubbing up against them during big storms.
The best way to keep any surface looking its best is by hiring Pressure Wash Bros for pressure washing services! We offer commercial-grade equipment that will remove all those unsightly stains without damaging delicate finishes and surfaces.
We know that your home or business is an investment, and we are committed to maintaining its beauty by applying the right solutions for a tailored clean with long-lasting results! If you're in need of pressure washing services, call Pressure Wash Bros today at (916) 619-3371 so we can provide a free estimate on what needs to be done.
What are the benefits of pressure washing services?
There are several benefits of pressure washing which includes:
Removing dirt, grime, and mold from surfaces
Improves the curb appeal of your home by giving it a fresh appearance
Cleans away stubborn stains on decks, fences, and rooftops that can be caused by leaves or moss growth.
Pressure washing services are environmentally friendly as we remove chemicals instead of using them to clean.
What are the services we offered in Sacramento, CA?
Here are some of the pressure washing services we offer:
Soft Pressure Washing
If you have a concrete surface in your home or business that is being stained by mildew, algae, mold growth, or any other type of organic residue then soft pressure washing may be what you need. We clean hardy surfaces using water jets at lower pressures which won't cause damage as our competitors do with traditional chemical cleaning methods. This means there's less chance for streaks or discoloration to occur on your finished surface.
Graffiti Removal
Graffiti removal is something that is prevalent in most urban areas. The graffiti you see on your property may be unsightly and make the area look like an eyesore, or it might even pose a safety concern for children playing around the building. We offer removal of any type of surface from brick to metal to concrete so if this is something you need taken care of give us a call at (916) 619-3371 and we'll come out right away.
Dumpster Cleaning
Dumpster cleaning is something that is not a high priority for most people, but it should be. The trash and debris left in your dumpster can attract insects, rodents, or other pests into the building nearby. We offer full service of cleaning out any type of dumpster from compactors to roll-offs so give us a call at (916) 619-3371.
Gas Station Pressure Washing
Oil spillages can be a major problem for a gas station and the surrounding area. If you're struggling with the stains, smells or just general dirt then give us a call at (916) 619-3371 because we can handle that type of job quickly and effectively without any problems. Gas station pressure washing is one of our specialties and we have years of experience in this field.
Roof Washing
A roof should be cleaned regularly so as to keep moss or mold growth under control, but many homeowners don't realize this until their roofs start leaking water. Roof pressure washing is an excellent way to clean your roof and make it look new again. Contact Pressure Wash Bros at (916) 619-3371 now to get quotes.
Fence Cleaning
A completely overlooked area is fences so let us take care of them for you while we're cleaning the rest of the property. Fences should be washed every month or two depending on how much they get dirty, but it's always better to just have someone do it professionally at least once a year because if not done properly they won't look clean enough in no time.
What surface types does Pressure Wash Bros work with?
Asphalt shingles, concrete pavers, asphalt driveways, roadsides, stained brick exteriors (gray), natural stone such as granite & marble tiles-any type. We also provide pressure washing for other surfaces too like gutters and dumpster lids which is another service that many people don't think to have done.
Pressure washing is the most common surface treatment we do for homes and commercial properties alike because it's one of the best ways to remove dirt, mold & mildew that has built up over time on your surfaces.
Is pressure washing concrete bad?
There is a common misconception that pressure washing concrete will damage it but the truth is, if done correctly and carefully this won't happen. This process actually helps to remove dirt from pores on the surface which prevents them from being plugged up with debris again in no time.
What are some reasons you should hire Pressure Wash Bros?
We've all seen those ugly stains from tree sap or other sticky substances on houses and decks right after they get wet during a rainstorm-those will disappear with a professional cleaning. The same goes for rust, graffiti, or any kind of discoloration caused by years of sun exposure. We'll also make your driveway look new again with an affordable monthly power wash service package.
We have been cleaning Sacramento and the surrounding cities for years so you know we can take care of your pressure washing needs. We have a professional staff that is ready to work on any size job, from small residential homes to large commercial buildings.
We also offer free quotes over the phone or in-person before starting any work making it easy for homeowners who want an estimate before they commit to anything.
Contact Pressure Wash Bros at (916) 619-3371 if you want to know more about our pressure washing services in Sacramento, CA. Dial now to get free estimates.