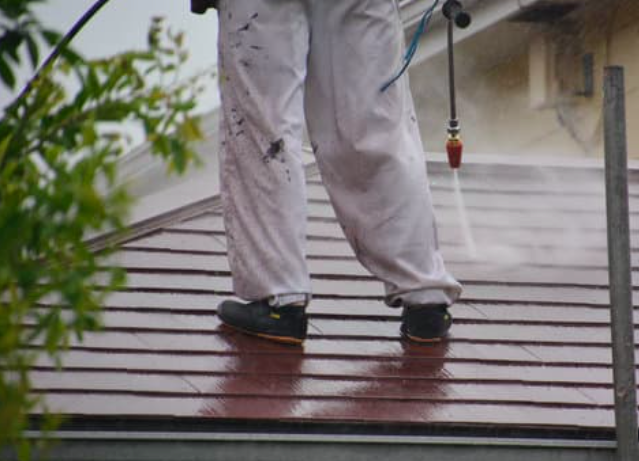 There are many reasons to hire a professional pressure washing company, but there is one reason that might be the most important: your safety. Pressure washing can be dangerous work when done improperly and without proper protection. Roofs often have sharp edges and other hazardous materials on them, which can cause injury if they aren't handled properly. You don't want to take any chances with your safety or the safety of those around you by choosing an inexperienced roof cleaner for your job.
Pressure Wash Bros is a company that specializes in pressure washing your roof. We have experience with all types of roofs and know what to do to get them looking brand new again. Do you need the algae scrubbed off? Or maybe it's just dirt or moss? Whatever the case, we can handle it!
To know more about roof washing in Folsom, CA, give us a call at (916) 619-3371.
What are the advantages of roof washing?
Reduces the risks of roof leaks and structural damage.
Increases curb appeal, thus increasing your property value.
It's an easy way to get rid of organic growth on the surface that can cause serious issues with mold buildup or decay, not to mention all kinds of smells.
Cleaner, healthier air inside your home.
Process of Roof Washing
To begin the process, the professionals at Pressure Wash Bros will first examine the roof to determine what type of surface it is made out of. This helps with determining how best to proceed cleaning it as well as how much time should be expected in order for us to clean your entire roof.
Next, we'll wash away dirt and grime using a power washer that would otherwise have been impossible or very labor-intensive without one. We may also apply biocides if necessary which are chemicals used on roofs during washing designed primarily to kill bacteria and fungi.
We can then rinse away any remaining traces of detergents, disinfectants, or other chemical treatments before applying an environmentally friendly sealant that prevents stains from forming again in the future.
How often should I pressure wash my roof?
This answer depends on what type of roof you have. We recommend power washing your roof at least once per year, but we know some people need to be more vigilant and do it every few months or so.
What type of roof should pressure wash?
Some roofs are very thin and may not be able to withstand the pressure of water, so it's important that you know what type of roof you have before we come out and do the power washing service for you. Talk to one of our experts to know if your roof can be pressure wash. Give us a call at  (916) 619-3371.
What should I do if my roof needs washing?
The best thing for any homeowner or business owner to do is come talk with our friendly experts at Pressure Wash Bros in Folsom, CA today. We will help determine what your individual situation entails and then give you an accurate estimate of how long it will take to clean your roof without interrupting anything else that we might already be working on. Once this has been settled, we work together towards reaching a final agreement where cost is concerned and set up a time frame to wash the roof of your home or business.
Why choose Pressure Wash Bros?
Pressure Washing is our trade so we know what we're doing! We are a local Folsom company that has been serving clients for years now. Our professional staff will arrive in uniform and with proper equipment that they take care of throughout their work day from start to finish – you won't have any worries about them damaging anything else while working at your home or business.
We can power wash your roof while you watch! You will be able to see first hand the before and after effects of what pressure washing does for your home. This is especially helpful if there are any questions or concerns about how much it would cost to have our team come out and do a one-time cleanse, as we're happy to work with budgets big and small.
Aside from roof washing, we also offer other services such as pressure washing, power washing, gutter cleaning, graffiti removal, rust removal, dumpster cleaning, gas station pressure washing, soft pressure washing, commercial pressure washing, fleet washing, heavy equipment washing, driveway cleaning, deck cleaning, and fence cleaning.
Contact us at  (916) 619-3371 to get free estimates and quotes. We service Folsom, CA, and other nearby areas.