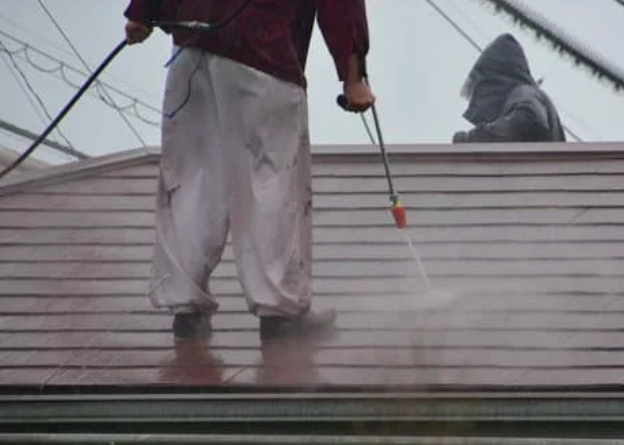 As a homeowner, you want to keep your property looking its best. But when the time comes to clean out the gutters and downspouts of your home, you may not know who to turn to. If this is the case for you or any other homeowner in need of gutter cleaning services, then hire Pressure Wash Bros.
Pressure Wash Bros has been providing gutter cleaning services for years now with great success. We use state-of-the-art equipment that helps us get the job done quickly and efficiently while still maintaining a professional appearance. Our team members are all trained professionals who are knowledgeable about what they're doing and how we can help our clients achieve their goals.
Pressure Wash Bros offers other services such as pressure washing, power washing, graffiti removal, rust removal, dumpster cleaning, gas station pressure washing, soft pressure washing, commercial pressure washing, fleet washing, heavy equipment washing, driveway cleaning, roof washing, deck cleaning, and fence cleaning.
Give us a call at (916) 619-3371 if you are looking for gutter cleaning services.
What are the advantages of gutter cleaning?
Gutter cleaning will remove any debris, dirt, and leaves from clogging your gutters. This actually will help prevent water damage to the exterior surfaces on your home such as wood siding or stucco due to runoff coming down the exterior walls when it rains. Gutter water can also rot these surfaces if left unchecked which is why we highly recommend getting them cleaned out by a professional so you don't have to worry about this anymore.
How often should gutters be cleaned?
Gutters can be cleaned every few months or twice a year. This will depend on the amount of debris that is in them and how often it rains. It's always best to get your gutters cleaned out right after they have been filled with leaves because these are the worst offenders when it comes to clogging up our gutters. Contact Pressure Wash Bros at (916) 619-3371 if you are looking for a reliable and most trusted gutter cleaner in Folsom, CA.
What happens if gutters are not cleaned?
If gutters are not cleaned out and left to fill up with debris, they can become blocked. When this happens, water will back up in the gutter, leading it to overflow down the exterior walls of your home or into nearby landscaping areas. This is a very bad thing because as you know standing water sitting on your siding for too long leads to rot and mildew growth which makes these surfaces look really bad over time.
Tips on How to Maintain the Gutter System
There are a few things homeowners can do to help maintain their gutters and keep them from clogging up. The first is that they should always take the time to clean out their gutters on an annual basis, so as not to have any debris build-up within it in the meantime.
Secondly, if there is heavy leaf fall during certain times of the year when people tend to rake leaves onto the ground near your home's foundation then you should put away your rakes because this will only lead these items into building up high inside your gutter system where they cannot be cleaned or removed by regular cleaning methods like with brushes.
Lastly, we recommend installing rain chains somewhere above your roofline which will divert water runoff over walls or plants instead of it running down the side of your home where it may damage exterior walls, fascia boards, and soffits.
Hire Pressure Wash Bros for your Gutter Cleaning
Folsom homeowners can save time by hiring an experienced pressure washing company to deep clean their homes – no matter how big or small. When water washes down high-rise buildings it takes dirt and grime with it into storm drains where they're washed away never to be seen again until another rainstorm returns them as dirty runoff back onto the building's surface. This is why professional cleaning services like ours exist; so that our clients don't have to worry about this problem.
If it's time for your home to be cleaned by professionals then there is no better company than us! We promise you'll love the results of our power washing jobs – both inside and outside your home will shine like new. Give us a call today at (916) 619-3371 so that we can send over someone from one of our pressure washing teams right away.
The company serves these cities: Sacramento CA; Roseville CA; Rocklin CA; Citrus Heights CA; Elk Grove CA; El Dorado Hills and more.