Elk Grove Pressure Washing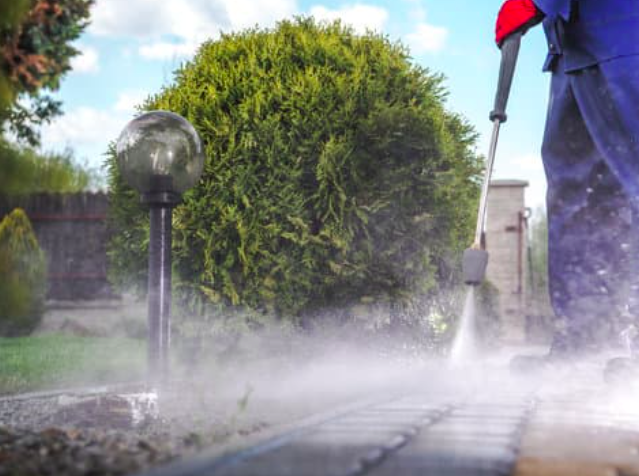 Many Elk Grove residents don't know that pressure washing can be a necessary service for their homes and businesses. Pressure washing removes dirt, mold, and mildew from building surfaces like exterior siding or decks, making them look new again. This is an important part of maintaining your home or business because these substances can cause illness if they are left to accumulate. If you need professional pressure washing services in the Elk Grove area, contact Pressure Wash Bros for all of your needs.
Pressure Wash Bros is a trusted company with years of experience providing high-quality workmanship to local customers who want to enjoy clean homes and businesses without a headache. Our technicians are professionals who have been trained on every type of surface imaginable so they will know how best to get rid of any stubborn dirt, mold, or mildew.
If you need pressure washing services or want to know more information about pressure washing services in Elk Grove, CA, call our experts at (916) 892-1279 and one of our representatives will be happy to answer any questions you may have.
What are the services we offer in Elk Grove, CA?
Residential Pressure Washing
It's no secret that homeowners are busy people these days- so much time spent working outside the home leaves little energy left over for cleaning the house. That's why hiring professional residential pressure washers like our team at Pressure Wash Bros is essential to maintaining a clean and healthy living environment free from bacteria and mold spores. Here are some of the residential pressure washing services we offer:
House Pressure Washing
House pressure washing is one of the common residential services that we provide to our customers. This service is probably the most popular because homeowners want their property to look its best and be free from mold, mildew, and bacteria at all times. We can power wash your house with a natural soap, or treat the surface with biocides for more stubborn contaminants.
Sidewalk Pressure Washing
Sidewalk pressure washing is a service that we provide to residential customers who want their outdoor spaces to look pristine and free from dirt, debris, mold, mildew, and bacteria. We use high-pressure water power washing equipment to remove tough contaminants like tree sap or bird droppings in order to keep your property clean.
Gutter Cleaning
Every homeowner wants to have peace of mind knowing that their gutters are clear and safe for rainwater runoff. Gutter cleaning is an essential maintenance service because it helps prevent basement flooding and clogged drains by removing leaves and other natural debris before they can become problematic.
Fence Cleaning
We often get asked, "Why does my fence need to be pressure washed?" Well for starters, if you have a dirty or grimy chain link fence that is covered in algae and mold then it needs to be cleaned! However, regular maintenance with power washing can help keep your yard looking great without any unsightly fences so they don't detract from the natural beauty of your property.
Call us at (916) 892-1279 to get free estimates and quotes.
Commercial Pressure Washing
Aside from residential pressure washing, Pressure Wash Bros also offers commercial pressure washing. Below are some of the commercial pressure washing services we offered. You can rest assured that your business will be returned back to its original condition after a pressure washing from our technicians with extensive knowledge about what it takes to properly clean any type of outdoor space.
Gas Station Pressure Washing
Gas station pressure washing is another service that Pressure Wash Bros offers. This is a necessary task because gas stations are under heavy foot traffic and get dirty quickly. The best way to ensure they stay clean for the customers is by performing pressure washing on a regular basis, which helps remove grease, dirt, oil, waxes, and other contaminants from the surface of structures such as fuel tanks and pumps.
Power Washing
It's no secret that power washing can be used for more than just homes; it also has many commercial applications! If you have concrete or metal surfaces in need of cleaning but don't want them scratched or damaged during the process, then power wash may be your solution. It will help eliminate stains without harming delicate surfaces while still removing tough environmental buildups like dust and pollen.
Graffiti Removal
Have you tried to remove paint or graffiti from your building and found it a difficult process? If so, don't worry! We offer many different methods for removing these undesirable substances. From the use of a high-pressure water system to using chemical solutions on surfaces, we have both effective materials that will not damage your property while still getting rid of the unwanted material in no time. Our goal is to save our customers as much hassle as possible.
Heavy Equipment Washing
If your business relies heavily on machineries such as diesel trucks or construction equipment then we may have some good news for you; our heavy equipment washing service will ensure all of these machines are kept in excellent condition at all times. We specialize in keeping vehicles protected against corrosion by using high-quality waxes alongside specialized detergents to remove buildups and deposits before they have a chance to damage your equipment.
The pressure washing experts at Pressure Wash Bros handle all types of different heavy machinery, so regardless of the size or what industry you work in we can help make sure that it's always clean and ready for use.
When should you do pressure washing?
You should pressure wash your home or commercial building's exterior when you notice the appearance of mold, mildew, and dirt. For prolonged exposure to weather elements (think rain and snow), it is recommended that you power wash at least twice a year for optimal results. With all this time spent outside on the job, most people neglect their property in favor of working hard! But don't forget – these are two parts of life that go hand-in-hand! Spend some time tending to things today with our professional services so they can look great tomorrow.
Choose Pressure Wash Bros
Many Elk Grove homeowners and business owners trust Pressure Wash Bros for all of their pressure washing needs because of our high-quality services. We are fully licensed and insured, and we have a great relationship with the Elk Grove residents because of how clean our company has kept its properties over the years. Our employees offer excellent customer service as well as competitive rates that meet any budget.
If you need help cleaning your property or if you need some advice for choosing which type of pressure washing service to avail from us, please contact Pressure Wash Bros today at (916) 892-1279.