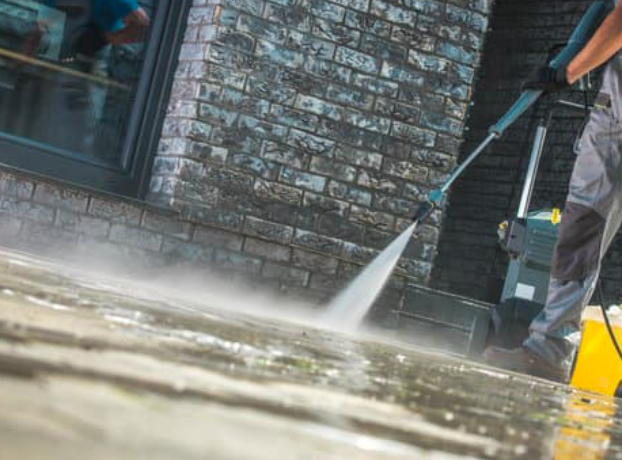 You live in a beautiful house with a pristine driveway. You wash it every month and maintain it closely, but that doesn't stop the natural wear and tear of life from taking its toll on your driveway. The cracks and crevices are getting bigger, weeds are growing out of control, there's an ugly stain you can't get off – all these things make it look like your driveway is old when really it just needs some TLC to bring back that shine!
Pressure Wash Bros is highly experienced in all aspects of pressure washing services. We are committed to providing customers with quality workmanship at competitive prices. Our team provides great customer service as well as attention to detail when working on your project. Our company will not disappoint.
Contact us at (916) 619-3371 to know more about Folsom driveway cleaning. Dial now to get free estimates.
Benefits of Driveway Cleaning
Streak-free driveway Cleaning – Professional pressure washing services can clean your driveway with high efficiency. The water jets are powerful enough to take care of stubborn stains, and the team will also make sure that there is no spotting or streaking on your walkway.
Protected driveway – We use professional detergents for our cleaning process to ensure you get all the benefits from having a protected surface such as safety against dirt build-up, less chance of weeds growing through cracks in the pavement, easier maintenance because it won't be so hard pushing the dirt off when they're cleaned regularly and finally reduced risk of damage caused by weather like mudslides due to buildup around base slabs.
Improved curb appeal – Your neighbors' opinion of your house is likely to be influenced by the curb appeal of your property. If you have a dirty driveway, then that might make people think less of it in general.
If we clean your driveway using pressure washing instead, this will give a new and fresh look for all those who drive by or walk past.
Call (916) 619-3371 to speak with one of our specialists about how they can use their expertise to help get rid of dirt and grime from your home's exterior so you no longer need to worry about stains on the surface anymore.
What should I do before having my driveway cleaned by Pressure Wash Bros?
The day before your scheduled service: use a shovel or broom to remove leaves, dirt, debris from the surface of your asphalt or concrete. Any loose material will be removed during our process which can potentially save time. However, we are happy to sweep up any loose materials if needed before arriving at no extra cost!
Also make sure there is enough room around your house so that we have easy access without hitting anything with our equipment (mailbox, landscaping, etc).
Process of Driveway Pressure Wash
Our process typically takes about 15-20 minutes, depending on the size of your driveway. We use a truck-mounted high-pressure washer that sprays water at over 1000 PSI to remove dirt and debris from the surface. We then rinse the entire surface with clean water for desired shine level.
Easy maintenance tips after pressure washing service are complete: sweeping up any material leftover (leaves, grass clippings) and hosing down the sidewalk/entry area to keep it clear of standing water which can cause stains in concrete or asphalt surfaces.
Do I need to seal my driveway after pressure washing?
We recommend that you seal your driveway after pressure washing. The process of cleaning can remove the protective layer on a sealed surface and make it more vulnerable to future stains, damage, or wear from debris like ice, salt, or other chemicals.
Will a pressure washer remove paint from concrete?
A pressure washer can remove the top layer of paint from concrete. This is typically not desired because it takes away a protective surface and makes the concrete more vulnerable to damage, wear, or stain (especially from oil-based stains).
Why Choose Pressure Wash Bros for Driveway Cleaning
We use eco-friendly products that are safe for the environment and will not harm animals. We offer a 100 percent satisfaction guarantee on your first driveway cleaning, so you can be sure to love our service. Contact Pressure Wash Bros today at (916) 619-3371 if you have any more questions or want to schedule an appointment. We look forward to hearing from you soon.
We specialize in cleaning any type of hard surface including driveways, sidewalks, patios, decks, brick walls & siding. We also offer gutter cleaning for homes with gutters that are clogged with debris like leaves and pine needles; power washing offers an inexpensive way to keep your home's exterior looking its best! Call us to know more about the pressure washing services we offer.