Folsom Deck and Fence Cleaning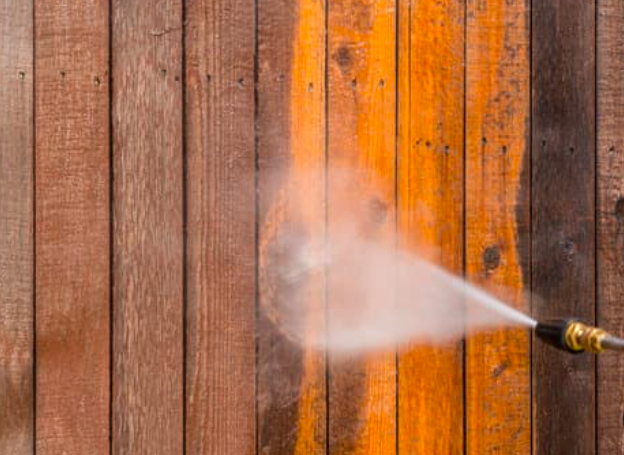 The deck and fence are an important part of a home. It's where you entertain, socialize, relax with your family or friends. However, the constant rain and sun can take their toll on your deck and fence no matter how often you clean it. If this sounds like you then we recommend Pressure Wash Bros for pressure washing services that will make your deck look brand new again!
With our wide variety of services from pressure washing decks and fences to gutter cleaning, we have all the bases covered. We're committed to providing you with the best service possible at an affordable price.
Call us at  (916) 619-3371 if you are looking for an affordable yet quality deck and fence cleaning in Folsom, CA. Dial now and get free estimates.
Pros of Fence and Deck Pressure Washing
Removes hazardous chemicals.
Rids your deck or fence of mold and mildew that can grow in the moist, damp environment.
Looks new again! No more peeling paint or rust stains from rainwater pooling on your deck or fence.
Fence Cleaning
A well-maintained fence will enhance the overall appearance of your property. In addition, it can also serve a functional purpose by protecting you from trespassers or animals. Cleaning fences is easier than many homeowners realize and not as time-consuming either! With our pressure washing service, we'll take care of all that for you so that you don't have to worry about anything else. Pressure Wash Bros has made the process easier by providing a detailed how-to guide on fence cleaning, along with our excellent services.
Deck Cleaning
Clean decks are important in order to maintain good air quality inside your home or business building. When dirt particles get trapped on the surface this leads to an increase in dust levels indoors which can lead to health problems like allergies and asthma. A buildup of dirt and grime on a deck will also affect its performance, making it more difficult to clean.
Pressure washing is the safest way to thoroughly clean your decks because it does not require you to get close enough for dirt particles or chemicals from detergents and other cleaning products that can be hazardous if inhaled. This makes pressure washing an excellent choice for people with respiratory problems.
Why do you need to hire a professional pressure washer to clean your fence and deck?
There are many reasons why a professional pressure washer is better than using your own power washer or hose to clean the deck and fence. The most important difference between professionals and amateurs when it comes to cleaning fences and decks, however, has nothing to do with how dirty they get it's about preventing damage.
Professional cleaners will know which products should not be used on certain surfaces as well as where their use could lead to serious issues like corrosion, staining from rusting metal components in concrete or peeling paint. If you're looking for an affordable yet quality way of clearing away dirt then contact Pressure Wash Bros by dialing  (916) 619-3371.
Deck and Fence Pressure Washing Process
We start by pressure washing the deck and fence with a high-pressure washer. This ensures that all dirt, grime, moss, or any other surface contaminant is removed from the wood surfaces of your deck and fences.
The next step would be scrubbing down the wooden surfaces using our specially formulated detergents mixed in water to remove any remaining grease stains, dirt, or mold that could have been missed during the previous steps. Depending on what you're looking for – there are multiple ways to clean decks and fences including power wash only methods which will give you an instant result but can't help with removing old paint, pollutants such as oil spills or mildew stains so it's important to choose wisely based on your needs.
As the last step, we will power wash your deck and fence again to remove any excess detergent. This ensures that all of the dirt has been removed from every surface as well as removing bacteria that could have accumulated on it while scrubbing down the surfaces.
Contact Pressure Wash Bros
There are many other companies that offer these services but we pride ourselves in taking care of our customers. We have been doing pressure washing for years now so you can feel confident choosing us because we know what we're doing! Call today at (916) 619-3371 if you want professional cleaners who won't let you down when it comes time to clean your decks and fences. We offer free estimates so there is no obligation on either end.
Aside from Folsom deck and fence cleaning, we also offer other services including gutter cleaning, rust removal, dumpster cleaning, gas station pressure washing, soft pressure washing, commercial pressure washing, fleet washing, driveway cleaning, and roof washing. Contact us now and get free estimates.