Rancho Cordova Pressure Washing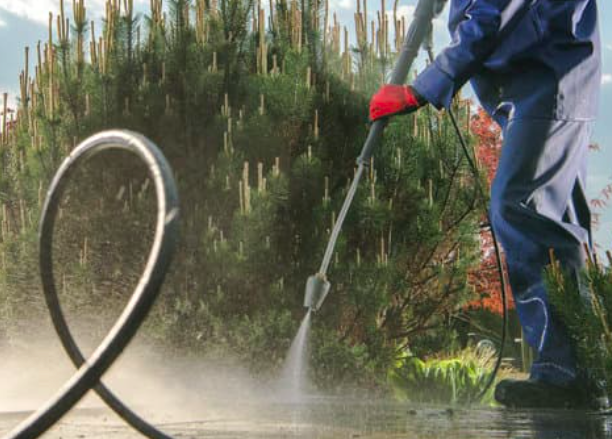 A lot of residents in Rancho Cordova are looking for a company that provides a pressure washing service. This is because many people don't have the time or the know-how to do it themselves, and they want to make sure their home or property looks great for family gatherings, parties, and other events.
One company you might want to consider hiring is Pressure Washing Bros. We've been providing top-quality pressure washing services for years and we are proud of our track record – no one has ever called us back to redo our work.
If you want Pressure Wash Bros to do some pressure washing, power washing, gutter cleaning, graffiti removal, rust removal, dumpster cleaning, gas station pressure washing, or soft pressure washing for you then all you need to do is contact us today. Dial  (916) 619-3371 to get free estimates.
About Pressure Washing
Pressure wash is the process of using high pressure and water to clean things. Pressure washing is a great way to remove dirt, mold, leaves, and other debris from many different surfaces. The pressure washer typically has two components: a motor that pumps the water through an on/off valve; and a pump powered by gas or electricity to increase the flow of water out of the hose. The high-pressure nozzle can be used for spraying down your house exterior during spring cleaning or power washing driveways after yesterday's big storm.
To ensure you are getting what you pay, make sure you hire the experts at Pressure Wash Bros. Contact us at  (916) 619-3371 to get free quotes and estimates.
Advantages of Pressure Washing
Pressure washing has a lot of advantages over other cleaning methods. The pressure can remove dirt, grime, and debris that a normal broom would simply push around or an ordinary washcloth could not clean up. Pressure washing is also much faster than regular scrubbing with soap and water to get rid of the same amount of dirt-so it saves time. It also gives you a curb appeal that a regular scrubbing just wouldn't provide.
Services We Offered in Rancho Cordova, California
Here are some of the pressure washing services in Rancho Cordova
Soft Pressure Washing
Soft pressure washing is a gentler way to wash your home without using any pressure. This method uses a high-pressure sprayer that is set to the lowest pressure possible, so it can be used on all surfaces without damaging them. Soft pressure washing will not leave your home with any scratches or marks and it won't need as many repairs after we are done.
Fence Cleaning
We also offer fence cleaning in Rancho Cordova. Fences often accumulate dirt from years of weather damage and natural wear and tear. Pressure Wash Bros offers effective fence cleaning services for fences made of PVC planking, painted wood boards, vinyl plank fencing, and more. We use our low-pressured water streamers to remove debris from every surface type imaginable including metal, stone, brick mortar joints; concrete blocks, and pavers.
Commercial Pressure Washing
For those with a commercial building that needs some extra care, we provide service for you. Pressure Wash Bros will clean your building to its original luster, removing dirt and grime that has accumulated over years of it being in a commercial setting. We offer services for all types of buildings including warehouses, office complexes, supermarkets, gas stations, car dealerships – any place where people come into contact with the outside world.
Heavy Equipment Pressure Washing
We also offer heavy equipment pressure washing, which is perfect for those with large equipment that needs to be washed. From the size of a small truck to an 18-wheeler, we can accommodate any size load and deliver exceptional results.
Power Washing
Every home wants a clean look, and one way to accomplish this is through power washing your house or other building on your property. Pressure Wash Bros uses state-of-the-art pressure washers that blast away dirt like never before, giving you pristine surfaces without damaging anything in its path. We also offer soft pressure washing – using less water but still being extremely effective at removing debris from all types of surfaces including concrete blocks, brick mortar joints; metal roofs and siding; stone walls as well as pavers.
What is the best time of year to power wash your house?
The best time to power wash your house is during a heatwave. However, it's always important to check the weather forecast before you schedule any home services so that we can make sure there won't be rain or storms in the area.
What can I expect during a pressure washing job?
The process begins with us coming out to your home in Rancho Cordova, CA to do a site inspection and deliver an estimate. You'll have peace of mind knowing upfront how much it's going to cost because there will be no surprises at the end when we're done cleaning your house. Then once you give us the go-ahead on your estimate, we set up times that work around your schedule for service day as well as days afterward for touchups if necessary. The whole time we're cleaning your walls, windowsills, and gutters, you'll be reading a book or watching TV.
The pressure washing process includes scrubbing the surface with hot water and soap to remove any stains before rinsing off then applying an antimicrobial solution for sanitizing. The final step is using a high-pressure sprayer that can blast away dirt, mildew, mold spores from surfaces like brickwork or concrete which will leave them clean with no trace of discoloration.
Choose Pressure Wash Bros
In Rancho Cordova, CA there are many residents who love their homes but don't have enough time on their hands to take care of all they need to maintain it themselves – so hiring Pressure Wash Bros in Rancho Cordova has been a great solution for them. What makes us different from other pressure washing companies is that we guarantee our work, and are licensed, insured, and bonded. We offer free estimates for all of our services so you know what to expect before signing anything – no hidden costs or surprises. Dial  (916) 619-3371 today!