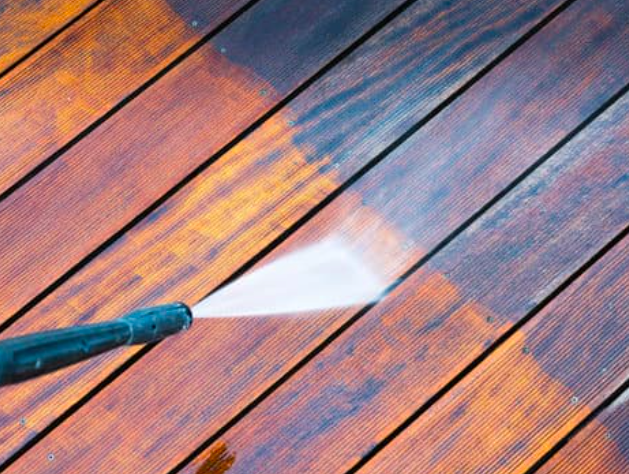 Pressure washing is a process of blasting dirty surfaces with water to remove dirt and grime. The goal is to make the surface look new again and pressure washers are typically used for cleaning roofs, patios, driveways, decks, sidewalks, or any other hard surface.
If you're a resident of Folsom, CA, and are looking for a company to do pressure washing, Pressure Wash Bros is your best choice. It's no surprise that the leading pressure washing experts in town are here at Pressure Wash Bros. When it comes to power washing houses or commercial buildings, we always get the job done right. We take pride in every project we undertake.
If you want more information about our pressure washing services in Folsom, CA to call us today! Dial (916) 619-3371 to get free estimates.
Benefits of Pressure Washing Services
Having a regular pressure washing service is important to the overall health of your home. It can be likened to a professional car wash where dirt, grime, and other debris are removed from all surfaces in order to keep it looking its best.
It is often difficult or impossible for homeowners to clean their roofs and decks themselves as they are either too high up on the house or require ladders that would make reaching them unsafe. This also applies to gutters which most people don't want to climb into with one hand carrying a bucket while balancing themselves on a ladder.
Another benefit of sending someone out regularly for pressure washing services is because you'll never have anyone scrubbing away at your exterior surface by hand when there's not enough time between major rainfalls before things start getting ugly again. As a result, you'll be spending a lot less time on the task, and having someone else do it is far more cost-effective.
Pressure Washing Services Offered in Folsom, California
We offer all types of pressure washing services including the following:
Gutter Cleaning
Since rain gutters are constantly collecting leaves and sticks, they can also become clogged with these things over time. This not only makes them unsafe for your property but it also applies to nearby homes since once again you're sending dirty water into their yard which could end up getting on their grass if left unchecked too long without being properly cleaned out. In addition, unclogging one gutter isn't enough because there will still be all sorts of debris piled up in others so regular cleaning is necessary until the gutters are able to handle their own.
We're also equipped with the equipment needed for gutter cleaning which will make your experience more cost-effective, something you'll appreciate in the long-run when a new home is constructed and then have to worry about hiring someone else again.
Soft Pressure Cleaning
You'll find this technique's use mainly in residential areas where there are no sidewalks, curbs, gutters etcetera that need cleaning up around. It's best for areas like driveways, sidewalks, patios, and pools.
Commercial Pressure Washing
One of the most popular services that we offer is commercial pressure washing since it's what keeps businesses looking clean and polished all year round no matter how much traffic they get during peak hours or on weekends. This helps reduce the number of people who walk through dirt once inside such as from sidewalks or parking lots so there's less chance of passing any sort of germs onto others. If this becomes an issue, eventually health inspectors could close the building for not meeting the necessary safety standards.
The ability to turn dirt into a liquid is one of the most important benefits that pressure washing provides and it's also what makes us so popular with commercial clients who want their properties looking brand new despite being older than some other buildings in town. We have experience cleaning everything from high-rise office buildings, retail storefronts, restaurants, hospitals, warehouses, parking lots – you name it!
Fleet washing
This type of service helps with keeping all company vehicles looking as good as new by getting rid of any grease stains, oil spots, etc. from the outside surfaces. We can also do this once a month if you have trucks coming back frequently so you'll always know they're spotless! The way it works is we use heated water mixed with detergent at high pressure to get rid of the dirt, grime, and any other residues on your vehicles.
Fence cleaning
We can also take care of all your fence needs! Our goal is to make them look as good as new so you'll never have to worry about their appearance again. We use high-pressure water mixed with a detergent that we spray onto the entire surface after making sure they're completely dry from the rain or dew, etc. This helps remove hidden stains, moldy patches while at the same time getting rid of any algae spores which are often found in these humid periods during summertime – tackling this problem early will keep a lot more green areas healthy over time too.
When should you do pressure washing?
As the season's change, pressure washing is often necessary to maintain a healthy and safe environment. Winter can lead to excessive buildup of grime, dust, mold, or mildew on your home's siding exterior due to the wet weather. Pressure washing in spring will remove any algae from sidewalks or driveways that was built up during winter months as well as control weed growth better than other methods such as hand pulling weeds or use herbicides.
Summertime brings about an increase in insects like mosquitoes which need water sources for breeding; by installing boards around pools with gaps beneath them you'll keep out many types of bugs but not all so manual removal may be needed where pressure washers are impractical. Additionally, there are increased dirt and debris after heavy rain and hurricanes which can lead to increased buildup of mold, mildew, or algae.
Hire Pressure Wash Bros Today
Pressure Wash Bros has years of experience in delivering excellent service. We are knowledgeable about pressure washing services and the know-how to get the job done right every time. No matter what type of home cleaning service you need – we can do it for you. Don't wait another minute; call us today at (916) 619-3371 if you want to get your home clean!