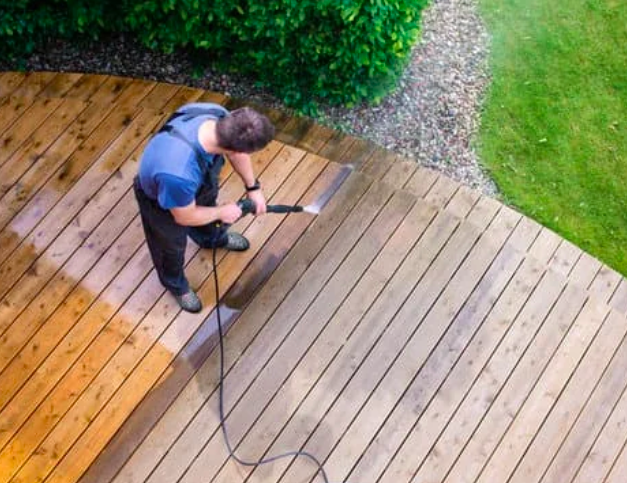 The exterior of your property is the most important asset you have. It's what people see when they come to visit, and it sets the tone for all those who live inside of your home. When looking at potential homes, a sturdy brick exterior can be enough to convince someone that this is exactly where they want to buy their next house or rent an apartment unit.
But not only do we need our buildings to look good on the outside; these surfaces are also exposed to various environmental hazards like pollution from nearby factories or concentrated salt deposits during winter months due to snow plowing by city employees. As such, power washing services are invaluable as it removes harmful substances while beautifying any surface with clean water droplets and bright colors.
Pressure Wash Bros knows that when you hire a power washing company for power washing service, there are many things to consider. That's why we provide you with detailed information on how we do our job so that you can make the best decision for yourself and your home.
To know more about power washing in Folsom, CA, give us a call at (916) 619-3371. Dial now to get free estimates.
About Power Washing
Power washing is the process of spraying a powerful stream of water and soap onto exterior surfaces from a power washer. This pressure-water mixture scrubs away filth, dirt, mold, and mildew along with any other grime that has built up on your home's siding or roofing material. It can be done by hand but it takes much longer to get the same results as using an automatic machine like those we operate at Pressure Wash Bros.
Benefits of Power Washing
Power washing can improve the appearance of your home, making it look newer and cleaner. It also removes mineral stains that might have accumulated on your exterior surfaces over time as well as any other hard-to-remove dirt or grime. In power washing, dirt and stains are scrubbed off with high-pressure water that is sprayed at the surface from a hose. It's an ideal solution for people who have hard-to-clean surfaces such as wood siding, brick pavers, vinyl or aluminum siding, metal roofs, concrete driveways, and more.
Who Needs Power Washing?
Anyone can benefit from power washing but it's especially useful for homeowners in colder climates where salt deposits accumulate on exterior surfaces during winter months. The process removes these destructive substances so you don't need to worry about rusting metals or peeling paint when using our services.
What is the difference between pressure washing and power washing?
The terms are often used interchangeably but there is a difference. Pressure washing involves cleaning surfaces by spraying high-pressure water at the surface from a hose, while power washing entails using an electric pressure washer to force pressurized water onto the surface for scrubbing purposes.
General Process of Power Washing
We start by surveying the exterior of your home and asking you a few questions about what maintenance needs to be done. Then we power wash all surfaces, including walkways, driveways, concrete patios, stone walls, and fences. We use only eco-friendly detergents that are safe for pets and children as well as plants when applicable.
After that, we rinse off the area applying an anti-microbial solution to inhibit bacterial growth which can lead to mold or mildew problems in humid climates. This also helps remove any stains near septic tanks where wastewater is stored before being pumped into treatment systems during heavy rainfalls or storms. Lastly, wrap up by applying a sealant to the surface for added protection.
Contact Pressure Wash Bros at (916) 619-3371 to get free estimates.
How often should I have my house cleaned by professional cleaners?
It depends on how dirty your property is but typically most homeowners request a frequency of once every three months during warmer seasons when there's more time spent outdoors than inside. In colder climates where snow covers grounds year-round, homeowners may request a frequency of once every six months.
Why Choose Pressure Wash Bros
We are an experienced company that has been offering quality power washing services to homeowners throughout the Folsom California area with 100 percent customer satisfaction guaranteed! In addition to residential homes, we also service commercial properties such as office buildings, retail stores, and warehouses.
We're confident we'll help improve your home design by cleaning up any unwanted appearance flaws like unattractive power wash marks, discoloration, and dirt. Contact us at (916) 619-3371 to get free estimates.