Cameron Park Pressure Washing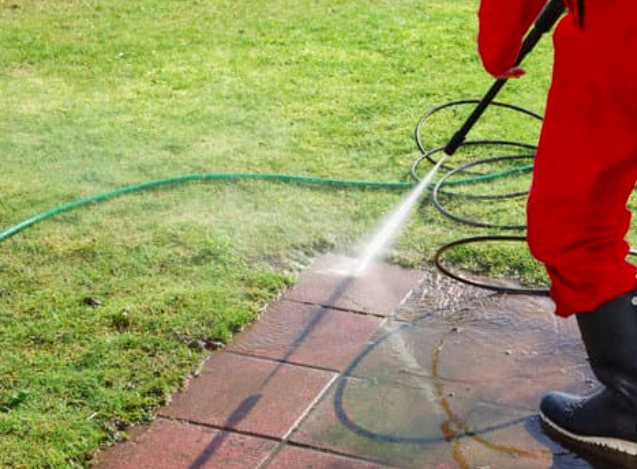 It is important to have your business or home pressure washed at least every year. This will make sure the property stays looking clean and shiny for years to come.
For those of you in the Cameron Park area, Pressure Wash Bros is a local company that provides quality pressure washing services for residential and commercial properties. We use only environmentally-friendly, biodegradable products to clean your property without any harsh chemicals or detergents. In addition to our eco-friendly cleaning agents, we have years of experience and are fully insured to protect you from accidental damages on your property. So if you're looking for a reliable pressure washing service at an affordable price, contact us today at  (916) 619-3371.
Pressure Wash Bros has been providing expert pressure washing services with years of experience helping both residential and commercial clients maintain their properties with no harsh chemicals or detergents! We offer competitive rates and exceptional service in the following counties: Sacramento County, Placer County, El Dorado County, Yolo County, and many more.
Contact us at (916) 619-3371 to know more about Cameron pressure washing services.
Pros and Cons of Pressure Washing
The pros of pressure washing are that it removes dirt, mold, and mildew from surfaces more quickly than other cleaning methods. It also helps to reduce the risk of water damage by removing contaminants that can increase a building's vulnerability to corrosion or deterioration. Pressure washing is also an environmentally friendly way of getting rid of graffiti without using harsh chemicals such as paint thinner or mineral spirits which are toxic for humans and animals.
There are minimal cons to pressure washing, and that is the fact that it could cause damage to a surface if not done properly. That is why it is important to hire a professional who has the knowledge and experience to do it safely like Pressure Wash Bros. There really aren't any other cons when you consider the benefits outweigh them for sure!
If you're looking for someone who can provide high-quality work in Cameron Park, look no further than Pressure Wash Bros' experienced team. Call us at  (916) 619-3371.
What You Need To Know About Pressure Washing
Pressure washing is a process that is done with a high-pressure water spray to remove dirt, mold, algae, and other contaminants from concrete surfaces. The end result will be an improved appearance of the surface as well as the removal of airborne particles such as pollen and dust on hard surfaces like exterior decks or driveways. A pressure wash can also reduce the growth rate of certain types of bacteria which may affect people in the home with weakened immune systems.
Pressure washing services are available for residential properties including homes, apartments, mobile homes (trailers), townhomes; commercial properties including retail stores, office buildings, restaurants, bars, lounges, industrial facilities, warehouses, manufacturers, storage yards; schools and universities – athletic fields and sidewalks surrounding campus buildings.
Pressure Washing Services Offered in Cameron Park, CA
Gutter Cleaning
When gutters are dirty they can cause problems. Power washing reduces build-up in gutters that will deteriorate from rust, mold growth, algae, and debris over time which leads to clogging and drainage issues; leaves residue downspouts free of debris which allows them to function properly again without overflowing onto walkways or property below; prevents weeping tiles from becoming blocked due to dirt build-over time; and reduces the risk of potential water damage to your home and property.
Pressure Washing
High-pressure hot water is used with a heavy-duty pump system that can produce up to 3000psi, allowing us to clean any surface without using harmful chemicals or detergents. This method also allows for better penetration into cracks and crevices where dirt builds up from wind and rain exposure, as well as removing bacteria, mold spores, algae build-ups which all become airborne when pressure washing pavement surfaces; we use soft brushes on our power washer attachments that are designed not to scratch delicate surfaces like vinyl siding or brick pavers while still providing significant cleaning benefits.
Commercial Pressure Washing Services
One of the most important reasons businesses should hire a professional commercial pressure washing service is to maintain an attractive appearance. Cleaning with hot water and specially formulated cleaning solutions not only removes dirt, grease, grime, mold, and mildew from surfaces like concrete or pavement but also can help remove graffiti as well as kill some bacteria that may otherwise be harmful to people nearby. We use powerful gas-powered equipment with high-pressure sprayers for all our jobs; we are fully insured so you don't have anything to worry about except which color flowers would look best in your office lobby.
Graffiti Removal
During graffiti removal, we use a high-powered water stream along with non-hazardous cleaning solutions to remove graffiti. This means the paint will not peel away from bricks or other surfaces, and it won't be blown into the air so you can breathe in toxic fumes—and there's no need for microfiber cloths!
Rust Removal
We use an environmentally friendly process that removes rust without corroding metal. We have detergents that dissolve rust rather than scrubbing it off as sandpaper does; this leaves your metals looking better than before they were washed.
Driveway Cleaning
See how dirty your driveway is when you get home after work? We'll remove all those footprints left by people who walked in mud or snow on their way into your house—all while using eco-friendly solutions that are safe for children and pets. Regular driveway maintenance will help prevent potholes, slow erosion, and extend the life of your asphalt or concrete surface and pressure washing is an excellent way to do this.
Choose Pressure Wash Bros
There are many reasons why homeowners and business owners should hire Pressure Wash Bros for their pressure washing needs. For one, Pressure Wash Bros has a reputation of being the most reliable company in Cameron Park, California. We have been perfecting our craft for years now and provide services to residents all around this region. Secondly, we offer competitive prices that will fit any budget. Lastly, we make sure to pay attention to detail so you know your home or business is receiving quality service every time.
Call us today at (916) 619-3371 for more information on how our team of professionals can help you with your next project.