Folsom Commercial Pressure Washing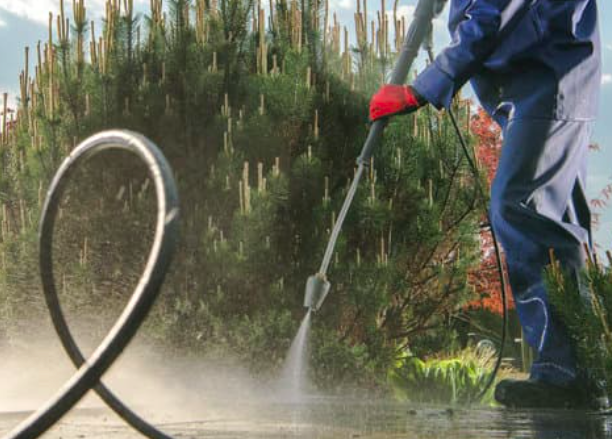 Commercial pressure washing is a job that requires heavy machinery and specialized equipment. But with all of the choices out there, how do you know who to trust? That's where Pressure Wash Bros comes in!
Pressure Wash Bros is an experienced commercial pressure washing company that provides a wide range of services to meet all your needs. We have the expertise and equipment for any size project, from residential homes to large commercial buildings.
If you are looking for a company to do a commercial pressure washing project in Folsom, CA, give us a call at  (916) 619-3371. We will provide the best service for your cleaning needs!
What is a commercial pressure wash?
Pressure washing is a great way to clean commercial property for homeowners or business owners. This type of cleaning removes dirt and debris without damaging the surface, which means it won't cause any damage to your building like other methods might do.
There are many reasons pressure washing should be used on commercial properties, including:
It does not require chemicals that could leave behind harmful residues on surfaces while also providing an attractive finish with reduced scrubbing time!
Pressure washers can remove even the toughest stains like oils from cars, colors from outdoor furniture, and mold and mildew from brick buildings.
They are environmentally friendly.
Commercial pressure washing includes three different methods:
High-pressure washing is the process of using jets or sprays from a high-pressure water hose that can remove dirt and other debris.
Low-pressure washing, also known as soft washing is perfect for more delicate surfaces like a stone where you don't need to scrub hard but still want to effectively clean it.
High volume equipment (HVE) uses higher pressures with lower flow rates than low-volume equipment (LVE). HVES are used in large commercial spaces since they have an increased ability to penetrate deeper into brickwork or concrete structures.
Commercial Pressure Washing Services
Parking Lot Pressure Washing
The cleaning of the parking lot is an important part of the commercial property. Any oil, grease, or other debris that is on the topside should be pressure washed away to be left clean and ready for use.
Sidewalk Pressure Washing
The sidewalks are another area where you will want to ensure a thorough cleaning takes place to maintain your customer's safety while walking around your business. The ground can become slippery from spills or dirt which makes it harder for people walking over them as well as potentially dangerous if someone falls down due to this reason. Cleaning with a power washer ensures less chance of injury by removing any contaminants at an accessible level before customers come through your doors again.
High-pressure washing keeps surfaces looking new by getting rid of any dirt that has built up over time.
Concrete Pressure Washing
Concrete is a critical surface that you need to clean regularly in order for your business to look professional and welcoming. The effects of high-pressure washing will help remove the grime from the ground level, allowing for people walking on it or standing nearby to do so without feeling unsafe because they are worried about what may be under their feet. It also looks new at all times, making customers feel as though your company values them more than other places might not due to their appearance.
Elevator Shafts & Escalators
After being used constantly throughout the day, these parts start looking dirty and gross fairly quickly but can easily be cleaned with the help of a pressure washer. The more often you keep these parts clean, the less likely people are to slip and fall on them while they get off their ride or out in order to find their way around your building.
Gas Station Power Washing
Oil spillages are no joke. Once they make their way into storm drains, it can take days or weeks before the company responsible for cleaning them up is able to do so without causing damage to other parts of the environment. By using a pressure washer though, you could most likely clean an oil spillage within hours instead of waiting days which would ultimately save time and money as well as helping reduce environmental harm.
Benefits of Hiring Pressure Wash Bros
Outstanding customer service. Our professionals are just a phone call away and ready to serve your needs at any time of day.
Free, no-obligation quotes for all commercial pressure washing projects. We will give you an estimate that is specific to the job you need to be done with our company – not some "one size fits all" package deal like many other companies offer today!
Competitive pricing: You'll be pleasantly surprised when we tell you how much money Pressure Wash Bros can save you over another company (and still get the same high-quality work).
Specialized equipment: With years in business behind us and specializing in commercial cleaning, it's easy to see why we have everything needed to get the job done right.
Give us a call today at  (916) 619-3371 for more information about our services including fleet washing, graffiti removal, soft pressure washing and more.