Rancho Murieta Pressure Washing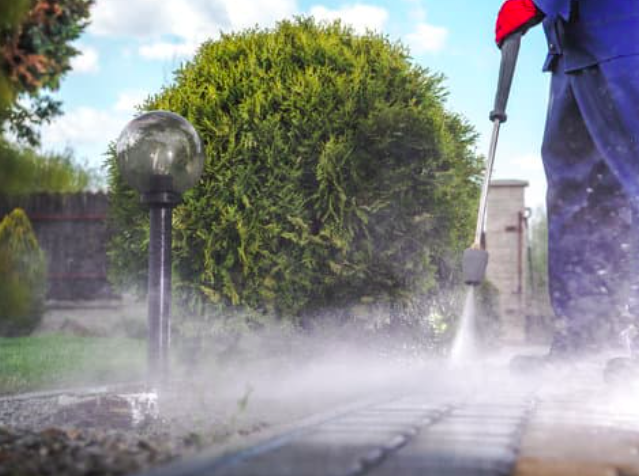 Hiring a professional pressure washing service is key to preserving the beauty of your home. The average person can't do it themselves, and if they try, chances are that all they're going to get is dirty water on their driveway.
At Pressure Wash Bros, we use only eco-friendly cleaning products because we care about the environment and want people in Rancho Murieta to know that when they hire us for power washing services, they're not just getting an expert job – but also one that's safe for both them and their family.
For more information about Rancho Murieta pressure washing services, contact us at  (916) 619-3371. Call now and get free estimates.
Pros of Pressure Washing
Pressure washing is one of the important parts of maintaining any building. It removes dirt, grime, and other unwanted substances from the surface of your building. This helps to keep its appearance looking new and fresh. It also prevents the growth of fungi, molds, and mildews. Pressure washing can also be used for a variety of purposes including graffiti removal, rust removal (only on metal surfaces), dumpster cleaning, or gas station pressure washings.
Cons of Pressure Washing
Pressure washing can be expensive due to the cost of equipment, chemicals needed, or labor costs associated with hiring a professional company (depending on how you want your building cleaned), but in a long run, it is worth the investment. It also requires time and potentially more than one visit depending on what needs to be washed (such as gutters) because sometimes dirt will work its way back up during the drying process.
Pressure Washing Services Offered in Rancho Murieta, California
Here are some of the services we offered:
Rust Removal
Rust removal is a service we offer on metal surfaces only. We will remove rust from anything made of metal, such as the steel that is typically found in fences or railings. Our chemical-based process can be used to get your pressure washing project done quickly and efficiently without any mess leftover behind for you to clean up after.
Pressure Washing
We use a powerful jet stream of water mixed with about half a gallon of soap per minute at high pressure in order to loosen dirt particles embedded deep within hard-to-reach places like crevices, corners, cracks, and other nooks where grime collects. Once loosened by this method it becomes easy enough for us to scrub away using brushes or pads leaving your home looking spotless again.
Graffiti Removal
Another service we offer is graffiti removal. This is a process that has been refined over time to make it safe and easy for us to remove even the most stubborn types of vandalism from any surface, be it brick or stone.
Driveway Cleaning
We also offer driveway cleaning services which can include pressure washing as part of its package. We use chemicals in conjunction with our water stream to enable you to have an easily accessible area without damaging your pavement at all while still providing protection against various forms of erosion such as hard rain and snowmelt.
Commercial Pressure Washing
As well we are able to provide commercial pressure washing services like power-washing building exteriors, decks, fences, roofs, and gas station driveways alike so that they look new again.
Fence Cleaning
We also offer fence cleaning services which typically include pressure washing as part of its package. We can provide you with a clean fence that doesn't require repainting or replacing every few years due to it being dirty and grimy like some companies may do. In addition, we will ensure that your gate has been scrubbed down so that no more rust stains are visible on either side while still keeping the nails intact at all times – ensuring longevity without sacrificing quality!
Power Washing
Power Washing is a type of pressure washing that utilizes the use of water and detergent, combined with high-pressured streams to remove dirt from surfaces. This is often used for residential buildings, driveways, sidewalks, siding, windowsills, etc.
How much does it cost to power wash your house?
The cost of pressure washing your house will depend on what type of service you need, the size and state of your home, as well as how often it needs to be done. Our team is happy to provide a no-obligation quote for any services that we offer.
How long does it take?
A typical job can normally be finished in about three hours or so. We work efficiently so you don't have to wait too long while still providing high-quality power-washing services. If you would like us to come out sooner than later please just let our team know when booking an appointment with one of our customer service representatives and we'll do everything possible to get there as soon as possible.
What is the best time of year to power wash your house?
In general, the best time to power washes your house is in Spring. This will help remove any dirt and grime that was stuck during the winter months as well as prepare for warmer weather when it comes around again.
How often should I power wash my home?
This depends on what services you're looking for. If you just need a touch-up or are cleaning out your gutters, we recommend an average of one per year but this can vary depending on how much activity has happened at your residence recently i.e., parties, pets… If you want a more thorough pressure washing service done or would like our team's opinion about whether now is the right time to schedule regular monthly cleanings please feel free to contact us at (916) 619-3371.
What Makes Pressure Wash Bros The Best?
We offer a free estimate for residential clients, which is something you should always ask when requesting power washing services because not all companies will provide this information without being asked first.
Pressure Wash Bros also offers the best guarantee in Rancho Murieta, CA We only use top-of-the-line equipment that's designed to be easy on your home or building so we're able to remove tough stains with no scrubbing required – find out more about our service by calling us today at (916) 619-3371.