Roseville Pressure Washing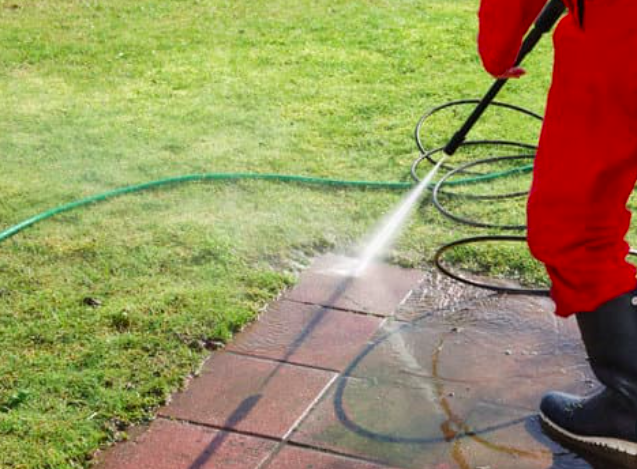 It's easy to tell when a building is dirty. But what about the stains that are invisible to the eye? If you don't clean your exterior surfaces regularly, they can start to accumulate dirt and grime over time. This starts to make your property look old or like it needs maintenance even if it doesn't need any work done on it. One of the best ways for Roseville residents and business owners looking for pressure washing services is by hiring Pressure Wash Bros for their cleaning needs. The professional team at Pressure Wash Bros will have your exterior surfaces looking brand new in no time.
Pressure Wash Bros provides high-quality pressure washing service with attention to detail, ensuring all areas are removed from dirt, grease, oil, mold, and mildew. They also offer another exterior cleaning service that provides a deep clean for the exterior of homes and businesses. This service includes power washing, gutter cleaning, graffiti removal, rust removal, dumpster cleaning, gas station pressure washing, soft pressure washing (i.e. low water), commercial pressure washer & equipment wash down services.
If you are interested in hiring us or want more information on what we do, don't hesitate to contact us today at (916) 619-3371.
More About Pressure Washing
Pressure washing is a service that provides many benefits to homeowners and businesses. Pressure washers are powerful machines designed for cleaning surfaces, typically tough stains on exterior building facades, driveways, sidewalks, parking lots/garages, and patios. The equipment can also be used inside the home or office buildings as well.
This method of cleaning helps remove dirt build-up from molds & mildews in addition to oily residue left behind by insects such as ants and termites; it removes salt deposits which cause corrosion on metal roofs resulting in leaks over time; pressure washing will save you money because other methods like scrubbing with brushes could require more time spent than pressing wash would take; they may clean your house better than you ever could yourself because they are equipped with a powerful high-pressure water spray combined with the right detergent.
Pressure Wash Bros Services Offered
Pressure Wash Bros offers all sorts of cleaning services including:
Heavy Equipment Cleaning
For contractors who must keep their equipment looking its best on a daily basis – we offer heavy-duty power washing services that will get off dirt as well as grease build-up from the engine compartment.
Gutter Clearing & Gutter Protection Services
As time goes by leaves fall into gutters and block them with debris; therefore causing the water not to flow smoothly down its channel. This can lead to flooding or even worse roof leaks which is why you should contact us about our gutter cleaning services.
Graffiti Removal Services
Having graffiti on the exterior of your property can be an eyesore, embarrassing, and hard to remove. Our service is professional grade with our high-pressure water sprayer that will obliterate any type of paint or marker from a surface such as bricks, cement blocks, wood fences – you name it!
Soft Pressure Washing
When you need gentler water power on non-structured surfaces like decks and fences, soft or light pressure washing may be just what you need. The detergent used in this type of washing will not strip paint or any other surface coating from the deck boards while still getting rid of dirt build-up.
Fence Cleaning Service
A fence should be cleaned every year or two depending on its location since most fences accumulate dust, pollen, leaves, bird droppings, and other types of debris over time. A dirty fence can attract pests and create a poor first impression for visitors.
If you're in the Roseville area, contact us at (916) 619-3371 to find out about any of our services, or fill out the contact form on this page to get a free quote!
Frequently Asked Questions About Pressure Washing
What is the difference between power washing and pressure washing?
Power washing is a technique that uses water pressure from the hose and stream to loosen dirt on surfaces. It is usually performed in a wide, sweeping motion rather than directly onto the surface. Pressure washing, also known as pressurized cleaning, utilizes higher levels of pressure – usually around 800 pounds per square inch (PSI) for residential use – in order to remove stubborn substances like grease or heavy soiling.
How long does pressure washing take?
It depends on the size of the surface and how dirty it is, but a typical residential building can be cleaned in about an hour or less. Commercial buildings may take longer to clean depending on their size. Contact our experts for more information if you are unsure what type of project that you need to be done at your home or office.
What is the best time of year to pressure wash your house?
The best time of year to pressure wash your house depends on the climate. In colder climates, it is recommended that you wait until after a thaw or freeze in order to avoid water damage and ice buildup.
Is pressure washing bad for concrete?
Pressure washing, if done correctly, is safe for concrete. A pressure washer should never be applied directly to a building's surface. Cleaning chemicals and water can seep in between the seams of your structures and cause damage that may not be visible from the outside or noticeable until it starts corroding steel reinforcement bars within brick walls.
How much does it cost to get your house pressure washed?
The cost of pressure washing a house varies depending on the size and surface area, in addition to how dirty it is. Contact our experts so we can give you the best quote on your house.
Hire Pressure Wash Bros Now
When you hire Pressure Wash Bros for your pressure cleaning needs you can count on professional work at competitive prices that won't break the budget. We provide same-day appointments if you live around the area. It doesn't matter how big or small the project may be because we can handle it all. If you hire us today then we promise fast response time without any hidden fees or extras.
Contact us today at (916) 619-3371 for all of your pressure washing needs in Roseville, CA!